Indian Creek Trading Post
Pow-wow Page

Most pow-wows we attend are within a tank of gas from the Louisville, Kentucky - Southern Indiana area. We sold at 22 events in 2003: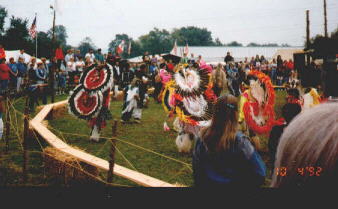 Taken at a Pow-wow in the Louisville area. We sell our books, music, and beads
at pow-wows during the Pow-wow season and from our basement during the winter.
---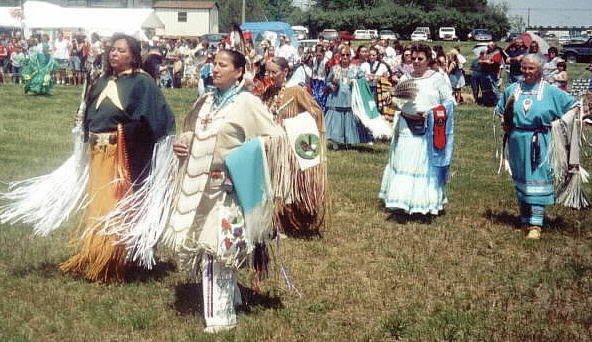 Grand Entry at Southern Band of The Cherokee
Birdsville Intertribal Pow-wow near Paducah, KY in April 2001

The event is now called the
Mantle Rock Intertribal Pow Wow
& will be April 23 to 25. 2004
at Crittenden County Fairgrounds, Marion, KY.
Contact info 270-965-9432 or KamamaSutton@aol.com

---
2nd Annual Fort Boonesborough State Park
Native American Festival
North Central Kentucky Tribe of Cherokee
May 1 & 2, 2004
contact Ch. Ten Eagles 502-742-1127
---
Rainbow Dancers
Present the 2004
Gina Wood Memorial Pow Wow
May 7,8,9, 2004
Marquette Heights. IL
Rt 29 at I-474 Southeast of Peoria
Phone: 309-382-2779 or 309-968-6848 or www.powwows.2ya.com
---
Tenth Annual IIM Pow-wow May 15-16, 2004
at Black Swan Lake Campgrounds
Located off SR 50 between Brownstown and Bedford, Indiana
IIM is the Indiana Indian Movement
for more info call Cris Dugger at 812-825-9622

---
Zane Shawnee Caverns & Southwind Park Campgrounds
First Annual Spring Shawnee Woodland Pow Wow
May 18th & 19,2002
7092 SR 540
Bellefontaine, Ohio 43311
contact shawneeurb@msn.com
937-592-9592
(we won't be going to this one due to the one above)
---
Memorial Day Weekend-NAICCO
22d Annual Moon When the Ponies Shed Traditional Powwow
Franklin County Fairgrounds
4100 Columbia St. Hilliard, Ohio
Exit 13 off of I-270 Follow the Signs
nearColumbus, Ohio
May 29-31,2004
Contact: 614-443-6120

---
Red Crow Indian Council, Inc.
5th Annual Native American Heritage Celebration
Wickland Mansion, 550 Bloomfield Road, Bardstown, KY
June 8 & 9, 2002
Contact 502-348-0425 or bryant@bardstown.com
(we'll be in Upstate NY that weekend)
June 5-6, 2004 at a new location
---
First Annual Intertribal Pow Wow
Honoring the Wea - Teaching Our Youth
Independence, Indiana
June 26-27, 2004
contact Pat or Dewey Ferguson (765) 249-2001
---
White Buffalo Society
Gaston, Indiana
July 17-18, 2004
---

Native American Foundation of Western Indiana
7th Annual Gathering of the People Pow-wow
July 20 & 21, 2002
in conjunction with the
Vigo County Conservation Club
(Terre Haute Area-near Brazil)
contact Norman or Vicki Rainbolt 812-877-4670
Date moved to the Fall
---
AAIWV Wapacoli-ANI
Northern Reigon Powwow
July 31 & Aug 1, 2004
Salem International University, Salem, WV
Contact Gerry Two Feathers Hess 304-842-3877
---
Zane Shawnee Caverns & Southwind Park Campgrounds
6th Annual Fall Shawnee Woodland Pow Wow
August 7rd & 8th, 2004
7092 SR 540
Bellefontaine, Ohio 43311
contact shawneeurb@msn.com
937-592-9592

---
Miami Powwow
at
Columbia City, Indiana
August 13-15, 2004

---
Zion Illinois
Aug 28-29
---
NAICCO Labor Day Powwow
Franklin Co Fairgrounds
4100 Columbia St. Hilliard, Ohio
Exit 13 off of I-270 Follow the Signs
nearColumbus, Ohio
September 4-6, 2004
---
Cahokia Mounds in Illinois
September 10-12, 2004
---
Paw-Paw Moon Festival
September 18-19
Springfield, OH
---
EKU
Lake Reba Park
Richmond, Kentucky
September 25-26,2004

---
ORNAIC (Ohio River Native American Intertribal Community)
Annual Festival.
Louisville, Kentucky
October 2-3, 2004
Place: E.P. Tom Sawyer State Park

We will also have our Kentucky Native American Heritage
Mobile Museum for anyone wanting to go through it.
For more information please contact: Randy Jackson at (502) 969-1339
or Bruce Brading (502) 532-7290

---
Rain Wind Fire Powwow
Winamac, IN
Oct 16-17
---
1st Fourwinds Annual Native American Festival
October 23-24, 2004
It is located on State Road 62 in Charlestown, IN. I-65 N from
Louisville, KY to exit #1 and travel approx. 10 to 11 miles the Festival
is on right hand side of State Road 62.
There will be demonstrators, storytelling,and crafts.
Headman Jeff Hatmaker
Headwoman Donna Dunn
Arena Director L. "Marty Soaring Eagle" Martin
MC Brent Owens
Host Drum Southern Singers
Guest Drum Esteyapi
E-mail walkinghorse0@yahoo.com or csgaddie@lynku.net

---
GO TO HOME PAGE

Last update 7/29/2004 JLL